About Project
Project Activities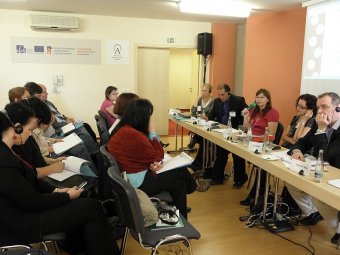 Local producers, farmers and other businesspersons form a very diverse group of people who often used to have nothing in common and sometimes perceived each other as competitors before the brand was introduced.  The branding system gives them, in the first place, a common competitive advantage against producers from outside of the region. Ideally, a network of local businesspersons is formed including producers, farmers and service providers who supply goods to each other, use each other's services and create common activities. The brand represents an effective advertising and promotion form for both the producers and retailers and it opens new sale possibilities within the region as well as outside of it (even abroad where regional products are appreciated very much).
The local and regional authorities, development agencies, nature conservancy administration and non-governmental organisations can contribute substantially to introducing the branding system and maintaining it. Possible ways and levels of involvement depend on them and their vigour entirely – from passive spreading of information, financial or material support to active involvement in the branding system's co-ordination and implementation of specific projects.
The international co-operation platform, which was formed thanks to the project "Experience sharing and formation of the international platform in the field of regional products suport", a project co-financed from the European Social Fund within the Operational Programme Human Resources and Employment (project No.: CZ.1.04/5.1.01/12.00120), confirms that motivation for the introduction of regional branding and its concepts have many similar features all over Europe but at the same time, there are a number of specific aspects that are connected with the different local conditions but not only with them. Mutual information exchange and inspiration can therefore contribute not only to development of specific projects but also to raising general awareness of the local production's potential and to searching for financial sources to support them.
The project consists of 6 main activities:
research of brands for local product in Europe
workshops for regional co-ordinators acting as members of the Association of Regional Brands of the Czech Republic and their partners
international conference "Branding and promotion of regional products – sharing of European experience"
publication "Regional branding throughout Europe"
leaflet describing principles of regional branding in EU
Related documents to download

Programme of the international conference

Proceedings of the international conference

A leaflet on the principles of the regional branding