Genussland Kärnten
| | |
| --- | --- |
| Region: | Kärnten |
| Country: | AUSTRIA |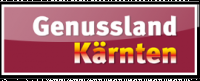 The brand Kärnten Genussland may be granted only to products that mature and are processed in Carinthia. This concerns meat, dairy products, fruits, vegetables and grains.




Objectives:
Promoting agricultural and food businesses
Increasing the value of the local agriculture
Improving the image of agricultural products and services
Support for farming families, assessing their strengths and opportunities within project implementation
Extension of an active network of businesses, farmers, restaurants, shops and other tourist services.